Spring/Summer 2023 League Session Clinics
If you have ever wanted to learn how to play beach volleyball or if you have played and want to sharpen up those skills, then the National Beach Volleyball Organization's Spring and Summer Clinics are for you.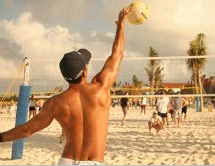 The Clinics run on Tuesday Nights at Sorrento Beach in Santa Monica, California. The clinics are open to all ages (under 18 requires parent's signature) and all ability levels. These clinics usually run at a one instructor to six student ratio, meaning you'll get plenty of time with an instructor if you have specific questions. Most of the time, the clinics will split into groups based on ability level. This way, if you are an experienced player and wish to focus on spiking, you will be with players of your ability. Likewise, if you are a total beginner, you can enjoy yourself without fear of slowing the action down. The clinics go through all of the basics of the game and run some fast drills to keep the action and your heart rate moving!
March 14th – September 12th: 5:00 PM to 6:15 PM